About Angel Designz Digital Media
Angel Designz Digital Media first started the 7th day of July 2007 in Alberta Canada. Why did I choose the name Angel Designz Digital Media? I chose the name because I wanted to incorporate charity work through the success of the business being able to give back to the community. I also chose to use a "Z" at the end of design to signify the uniqueness and personal touches that Angel designz offers to its clientele. Angel Designz Digital Media started offering Photography services, Personalized Scrapbooks, Personalized holiday cards, and event invitations. After having a small number of clients tell me I should really offer more services due to the quality of work. Angel Designz Digital Media Grew to offer additional services in 2008 including: small business advertising, Logo Design, website services, Graphic Design, business cards, reality Photography, & Editing services, business/Promo flyers, as well as brochures and infographics. In 2009 Angel Designz relocated to Manitoba while continuing to offer services to Alberta clients, and new U.S. Clients.
In 2011 Angel Designz Digital Media relocated to the United States, where Angel Designz Digital Media was temporarily put on hold due to a family tragedy..
In 2016 I was driven with a passion to launch Angel Designz and while doing so had a new vision and direction for the company. The vision to embrace new technologies, and a new direction to lead Angel Designz Digital Media towards the future and move beyond the past, and present expectations of artisans in the same field. Angel Designz Digital Media is now ready to begin again. Angel Designz Digital Media knows what it takes to get the company started in a new direction and to ensure success. The company will start off by offering limited services, slowly adding more services as we continue to grow. I feel the most important aspect of a successful company, is not location, finances, PM, nor even great leadership. Yes these all contribute in making a company great but not successful, I believe that it is the relationship and trust you build with your clients that make you successful. It is a satisfied, happy customer you have built a relationship with that helps ensure whether a company succeeds. They are a huge part of our our success and I feel the most important aspect of the company. Come build a relationship with a company who cares about their clients, and are passionate about helping you build your story through Photography, Company Identity Branding/co-branding, promo marketing, and more!
---
About The CEO/Creative Director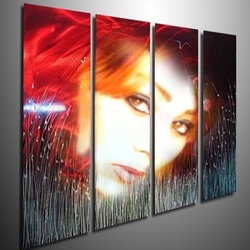 I am Shawnna Huntley, a mother of ten beautiful children, a survivor of child abuse, and Domestic Violence. My passion for helping people and animals started at the young age of 5. My desire to help the abandoned grew and as such, I perused my passion to help animals, the homeless and children. I eventually started two businesses; a rescue center for wildlife/pet companions, and a day home for the Canadian RCMP and single parents. Yet I still had this deep ever growing passion for Photography & Graphic Design. Maybe it is the Japanese in me. I believe photographs are a small glimpse into the often forgotten history of our lineage and an unveiling of our soul.
Photography Insight: photographs are frozen moments in time, and when you look into them they become beautiful stories that unfold like a budding rose. They are full of feelings and portray a lifetime of memories, both forgotten and unforgotten. Photographs are quite, gracefully aged, woven with personality, emotion, and full of beauty. My greatest passion as a photographer is to create an image that will touch the soul and warm the heart as well as tell your story. I want to evoke a dormant memory or relay a lingering message that inspires one's beauty within. Photographs are the symphony to life's memories, emotions, and an inspiration to experience life's greatest moments. We need to delve into our mysterious and most sacred un-foretold selves allowing others to see the deeper beauty hidden from the world, due to the fear of how others might see us. I assure you that these are the moments in life where your beauty truly shines in the heart of the world, and in the eyes of our loved ones, because they are pure and the rawest forms of our soul exposed.
I believe images can be therapeutic; they can inspire the uninspired and reach the lost; and, they can heal the hurting of one's soul. Images soothe and evoke memories of childhood loves, unforgettable moments of our loved ones passed, they take us to places we dream of visiting, and nurture healing of the heart, mind, body and soul. This is what my love for photography, graphic design, Branding and small scale marketing means to me. Because then you can truly work with the clientele to aspire to make their dreams a reality, ensuing a beautiful memory that will last a lifetime.
Graphic design Insight: First, we must fully understand Graphic design... What is it? How does it impact me or my company? Well, Graphic design is the most pervasive art in our world today. It is spread throughout the branches of almost every entity of our lives. Simply put, designer and columnist Jessica Helfand said, "graphic design touches everything we do… it is the art of visualizing ideas." In order to fully understand this statement, you must stray from the normal realm of what you feel is art.
Take a look at the book sitting beside you, the empty beverage can on your desk, the website you are browsing or the billboard you drive past every morning. All of these items have been carefully and thoughtfully executed by a graphic designer. Designers of all forms are collaborators and problem solvers charged with choosing and executing the best solution possible and with that, achieving progress.
Each marketing strategy requires graphic design work in some way or another. This is because today's world is focused on visual representation. Consumers spend very little time looking at ads, therefore; in order to be effective, ads must be eye-catching. And let's face it, images are way more eye-catching than words. Immediately noticed or not, graphic design touches everything we do. Realizing how design can impact you as a reader, consumer, user, or customer, may not only change how you interpret a product but also how you utilize design in your everyday life or business. Next time you have a moment, take a look around and reflect how graphic design touches you and your business. I have always had a passion for expressing myself through art, poetry and music. I used it as a form of expression and telling my life's story. The art of design is so beautifully inspiring, empowering and enlightening to me! The whole world is a giant canvas invoking thought, creativity, and future design for a better future. . Being able to help others to communicate ideas that inspire, inform, or captivate their consumers brings me as much joy as helping those in need as I feel part of helping them realize their goals or dreams of getting their business started.
​ I also want to incorporate charity work through Angel Designz Digital Media hence the reason for choosing the name Angel Designz. I want to continue helping others find hope, happiness, strength, a better future, or even just a simple but powerful gift to a family losing a loved one. To find out more about ADDM Charity work or to become an Angel sponsor please Click
HERE.

---